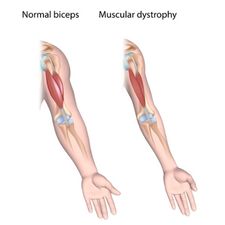 What is Muscular Dystrophy?
Muscular Dystrophy encompasses a group of genetic disorders which are characterised by progressive loss of muscle mass and subsequent weakness. Dystrophy is coined from the Greek word which essentially means 'bad nourishment'.
Early detection of muscular dystrophy started with a study by Sir Charles Bell, on the increasing weakness of the muscles of young boys, in 1830. This study on Muscular Dystrophy talks about a set of less than 30 genetic diseases that can lead to an alarming rate of increasing weakness of skeletal muscles applied through all voluntary movements. All these different ailments differ through the arrival stage, seriousness and prototype of muscles that are affected. All the manifestations of muscular dystrophy worsens as the muscles continually deteriorates and starts to weaken, and hence, it is considered as a "progressive muscular disorder".
WHAT ARE THE CAUSES OF MUSCULAR DYSTROPHY?
When a group of disorders present at birth, most likely due to a malfunction of a single gene, interferes with muscle veracity, it causes muscular dystrophy. An inaccurate coding by the dystrophin gene that provides the protein code needed for muscle tissue formation is the cause of MD.
Muscle weakness is generally caused when the cells that are used to sustain the muscles are no longer capable for their functionality. This, furthermore, leads to increasing weak points of the muscles and its disorder.
WHICH TESTS DIAGNOSE MUSCULAR DYSTROPHY?
 Often, symptoms of muscular dystrophy may seem similar to nerve related disorders. A few tests are recommended to rule out these conditions, and establish a primary muscle involvement. The tests that your physician may advise in order to diagnose Muscular Dystrophy are:
CPK Levels

EMG /NCV

Genetic Testing
HOW DOES STEM CELL THERAPY FOR MUSCULAR DYSTROPHY WORK?
Stem Cell Therapy has a promising potential to transmit progressive muscle proteins and restore the stem pool, thus, being the right muscular dystrophy treatment in India approach due to MD's for deteriorative nature.
 Stem cells have the capacity to convert into any type of body cell and undergo self regeneration. The capacity of adult muscle to undertake renewal is largely credited to a distinctive subpopulation of muscle cells, called satellite cells. These cells are believed to be the chief cell type associated with skeletal muscle regeneration.
 Stem cell treatment for muscular dystrophy contributes to tissue remodelling, inflammation reduction and prevention of cell death. Muscular dystrophy treatment in India follows this mechanism:
–Differentiation and cell fusions

–Secretion of cytokines

–Increase oxygen supply and contribute to vascularisation in the damaged area.
TREATMENTS THAT FOLLOW
A treatment plan for muscular dystrophy needs to be personalised depending on the intensity and level of impairment, and the progression of symptoms. This personalisation can only be achieved with a thorough evaluation of the patient. However, it is imperative that the following therapies be followed religiously after stem cell therapy for muscular dystrophy, for the best possible outcome!