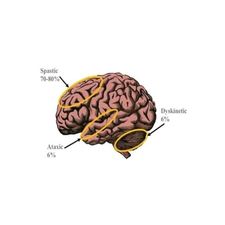 What is Cerebral Palsy?
Cerebral Palsy (CP) is defined as a non progressive disorder of the brain that leads to an inability in performing movements due to lack of muscle coordination or excessive tightness of the muscles. The Cerebral Palsy doesn't worsen over time (non-progressive). However, the limb or part associated with that damaged part, may experience a steady loss of function as the child grows. These regions may not develop as compared to the other parts of the body.
WHAT ARE THE TYPES OF CEREBRAL PALSY?
Spastic Cerebral Palsy
This type of cerebral palsy exhibits a rigidity in the limbs involved.
Ataxic
An ataxic type of Cerebral palsy appears if the smaller brain (cerebellum) is involved.
Dyskinetic Cerebral PalsyDyskinetic type of Cerebral palsy involves excessive involuntary movements.
Types of Dyskinetic CP
Dystonic
alternating between stiffness and flaccidity,
Choreoathetoid Cerebral Palsy: Persistent involuntary movements resulting in abnormal postures.
Based on the region of the brain affected
Monoplegia
A monoplegic type of cerebral palsy affects one limb, usually an arm
Diplegia
Diplegic Cerebral palsy, affects either both legs or both arms.
Hemiplegia
Hemiplegic type of cerebral palsy results from a one sided brain damage. This is reflected in the opposite side of the body including arms, legs, and trunk.
Quadriplegia
Quadriplegic cerebral palsy indicates a more severe brain damage. A quadiplegic CP manifests as an affection of all four limbs.
HOW CAN STEM CELL THERAPY TREAT CEREBRAL PALSY?
Stem Cell Therapy for Cerebral palsy treatment in India utilises stem cells to repair brain damage. Studies on nervous tissue regeneration, have proved that it is possible to repair the damaged brain tissues to an extent. The main mechanisms that help tissue repair and regeneration include:
–Prevention of cell death in neuronal population

–Establishment of new blood vessels

–Cell multiplication and integration

–Establishment of new neuronal maps in the brain in order to learn new functions
These mechanisms of stem cell therapy, renew the damaged tissues and restore activity in the affected area which is a marked clinical improvement. Stem cell therapy for cerebral palsy treatment in India, plays a diversified role in overall development and improvement. Autologous BM MNCs do not present any side effects and do not face an immune rejection. They are derived from the same patient and are thus, freed from all ethical issues around the usage of stem cells.
TREATMENTS THAT FOLLOW
A treatment plan for Cerebral Palsy cannot be exactly the same for all CP children. Patients tend to show greater improvement after their cell therapy for cerebral palsy, with subsequent rehabilitation. Whether traditional, or unconventional, they have to be personalised. This personalisation can only be achieved with a thorough evaluation of the child. However, it is imperative that the following therapies be followed religiously after stem cell therapy for cerebral palsy, for the best possible outcome!